Coming September 18, 2018
Available September, 2018
Road Map for Revolutionaries
A direct, snappy guidebook on engaging in effective day-to-day activism and advocacy at all levels that uses checklists, interviews, and case studies to showcase the tools for making the changes you want to see.
As marches, protests, and boycotts return to the cultural conversation in the United States and everyday people look to take action and make their voices heard, this hands-on, hit-the-ground-running guide delivers lessons on practical tactics for navigating and protecting one's personal democracy. Aimed at people who want to act but don't know what to do next.
"Road Map for Revolutionaries answers all the questions you were afraid to ask, plus some you never thought of. It's portable, requires no batteries or electricity, and was created by three smart women. I recommend it!" 
—Gloria Steinem, activist and writer
Available for Pre-Order Now at These Fine Establishments!
Amazon    B&N    IndieBound    iBooks     Google Books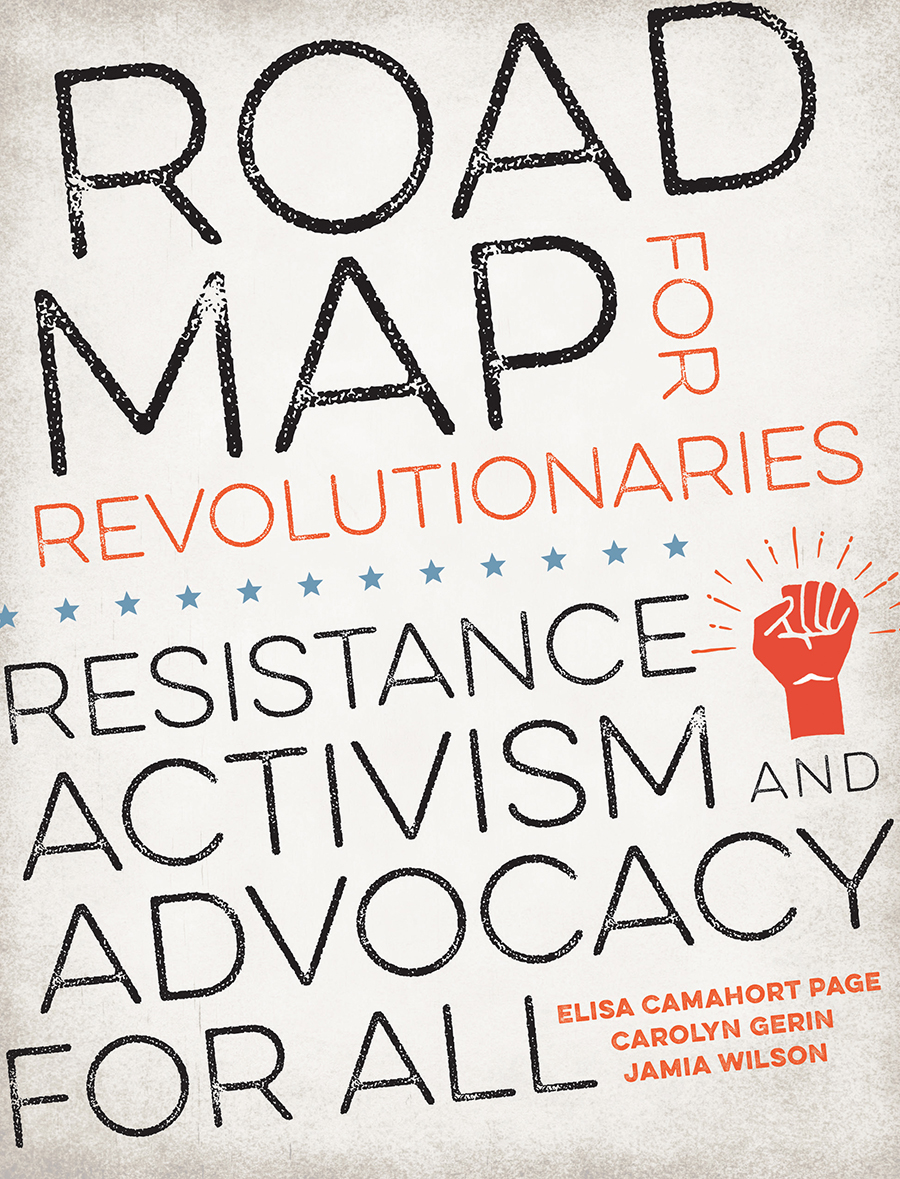 "Road Map for Revolutionaries answers all the questions you were afraid to ask, plus some you never thought of. It's portable, requires no batteries or electricity, and was created by three smart women. I recommend it!"
— Gloria Steinem, activist and writer
"What a necessary and timely project. I want to buy two more copies immediately to share with my two sons. It is awesome."
— Ricki Lake, talk show host, actor, and activist
"As we look around and see this troubling rise of violence, intolerance, and injustice, in our world, many people want to play a more active role in solving these problems. The biggest issue is most of us do not know how. Thankfully, these three brilliant and bad-ass women wrote the book we have been waiting for. Road Map for Revolutionaries is a powerful step by step guide that shows us how to move from outrage to action in ways that lead to sustainable impact and change. If you are ready to change the world right now, read this book and go get to work."
—Bobby Jones, CMO of PeaceFirst and author of Good is the New Cool
"Road Map For Revolutionaries will become THE tool in your toolbox that is irreplaceable in today's world where advocacy and activism are daily essentials. This new book co-authored by three brilliant women gives you the perfect template for supporting your chosen causes when you have run out of ideas of what more can you do. For young and mature audiences alike, you will want to buy for all those you care about."
—Susan McPherson, Founder of McPherson Strategies, a social impact-focused communications consultancy
"A map for finding your voice and using it in service of colleagues, communities, family, and fellow humans; I can't think of a better map to carry with you at this time, at any time."
–Tania Katan, Co-Creator of #ItWasNeverADress and author of Creative Trespassing
"Being an ally is one of the most important aspects of my life. Social Justice has never been an easy thing to fight for, but it has gotten exponentially harder since 2016. It's so easy to become overwhelmed. This guide helps me feel empowered, and makes positive change seem less daunting. As a single mother of a cisgender, white, most likely straight male, my job as an ally has become that much more important. Not only do I feel the responsibility to stand up for and behind marginalized people, but I also have to teach my son how to do the same. Mostly my role as a parent seems to be to unteach him the lessons he learns out in the world every day. Our culture tells him wherever he looks that he has more rights and privileges than almost every other group. Road Map for Revolutionaries provides an excellent jumping off point for me to better understand and explain our positions and responsibilities in our culture and gives me practical steps for getting us both involved in making the world a better place."
—Daisy Eagan, Actor, Writer, Activist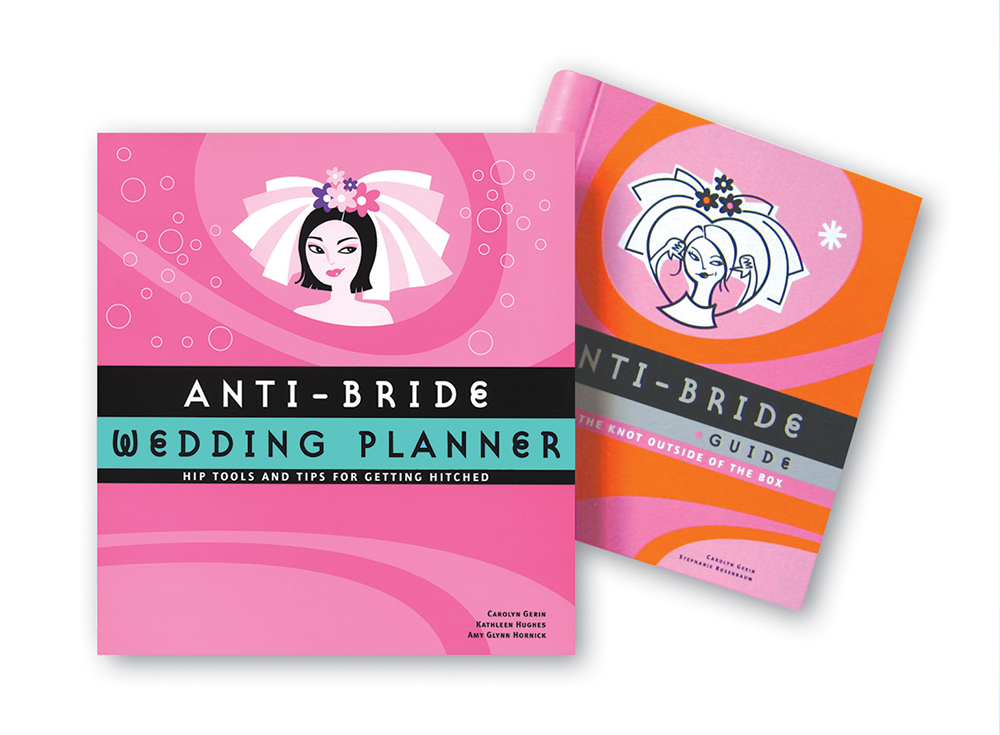 Anti-Bride Series
Chronicle Books — 2002-present
Creator and Co-Author
Anti-Bride — 3-book internationally published, bestselling series— the first voice in the alterna-bridal pop cultural space — since 2002, remains the longest selling bridal title in the history of Chronicle Books.Anti-Bride was the first wedding book series to ask the question: 'if everyone wants a wedding that's different, then why are they all the same?' A rebel cry in a sea of tulle and pearls, the series politely nudged the wedding industrial complex off it's throne, onto it's tulle-covered derrière, and ushered in a new era of DIY couples who for once, believed that their taste rivaled any hot shot wedding planner (and with far more originality). Anti-Bride, in trademark 'Sex Pistols Pink,' continues to lead charge on behalf of emancipated and engaged couples, internationally. #trustyourself #honoryourstyle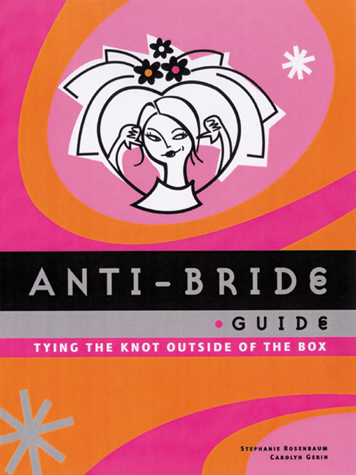 Anti-Bride Guide
by Carolyn Gerin and Stephanie Rosenbaum
Into a sea of pearl white and pale blue comes the hot pink and orange Anti-Bride Guide. The perfect book for anyone alienated by the high-brow wedding industry, this practical guide fills a huge gap in the wedding planner market. A riot to read and filled with sassy illustrations, each chapter offers up fabulous advice and unusual ideas for those brides looking for more than the standard fare. Hundreds of fantastic tips give great insider advice on how to deal with any and all wedding eventualities (lipstick stain on dress, caterer from hell, wedding day breakout). A handy planner and resource guide keeps the bride on track, and tabbed chapters have pockets for stuffing brochures and clippings. For the bride who wants her wedding her way, this is the ultimate guide.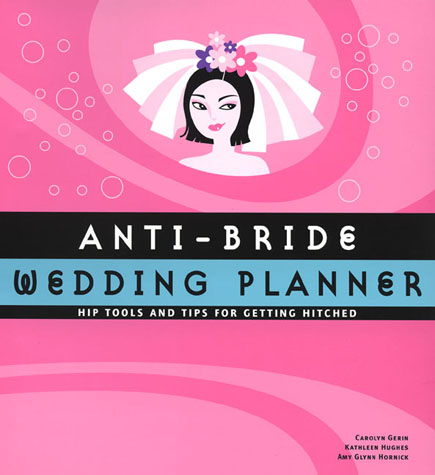 Anti-Bride Planner
by Carolyn Gerin, Kathleen Hughes and Amy Glynn Hornick
Tie the knot outside the box armed with this companion volume to the wildly popular Anti-Bride Guide. Featuring sassy and savvy ideas, useful questionnaires, handy pockets, and space for notes and doodles, the Anti-Bride Wedding Planner provides creative inspiration for brides-to-be who want to kick the conventional wedding to the curb.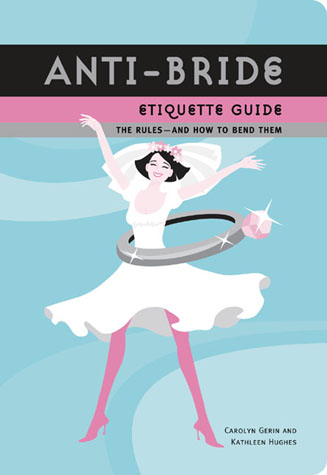 Anti-Bride Etiquette Guide
By Carolyn Gerin and Kathleen Hughes
Following the best-selling Anti-Bride Guide and Bridesmaid's Guide down the aisle comes the essential, smart, and sassy etiquette guide for the not-so-traditional bride. This feisty and straightforward advice book fills a huge gap in the wedding etiquette market. A riot to read and packed with bold illustrations, it walks the bride through everything from invitations and seating arrangements to money matters and family feuds. Whether fielding classic conundrumswho pays for whator decidedly modern situationsthe maid of honor is a manAnti-Bride Etiquette Guide offers sensitive advice for skillfully navigating the rough spots. Inventive solutions for dodging outmoded traditions ensure that brides will keep everyone from grooms to grandmothers happy. For the bride who doesn't want to sacrifice the wedding of her dreams or her loved ones' feelings, Anti-Bride Etiquette Guide has the answers.
Destination I Do Magazine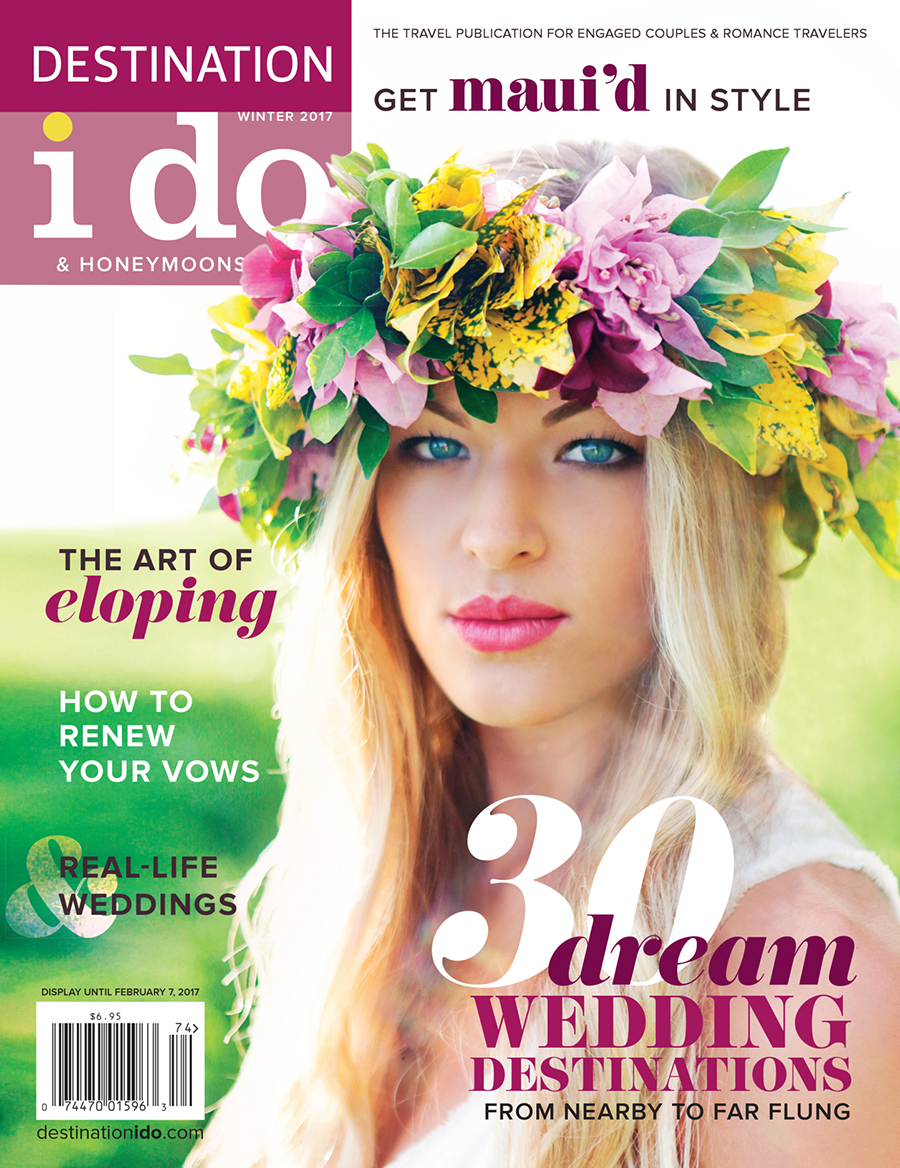 How best to keep an open mind? Travel frequently, and everywhere! To borrow a page from the late, great, Anthony Bourdain, eat the food and understand the people. As Senior Editor of Destination I Do magazine from 2007-2012, I traveled the world: from Dublin to Dubai, flew in helicopters and toured opal mines in Australian Outback. To report back on the road less traveled, unearthing unique experiences for romance adventurers was my mantra. Destination I Do magazine remains the #1 wedding magazine in the world, published internationally and available everywhere.