CEO + Co-founder Cannawise.co, a creative agency with expertise in retail product launches, brand development/strategy, and media, for companies in the B2B and B2C cannabis economy.
Carolyn served as Founder/CEO Subset Inc., S.F., CA: award-winning digital design, print, web and product development agency with state, national and global clients. She created 3 bestselling books during her 10 years leading the firm then moved on to pursue app development, press trips, and conference production. The decision to re-launch a creative agency focused solely on cannabis stems from a desire to utilize everything in her creative wheelhouse to help clients dominate their market sector, make or refresh an existing brand, and promote the myriad benefits of the plant.
Carolyn has been published or cited in top mainstream media outlets such as CNN, Entrepreneur, Technorati, Inc., Destination I Do Magazine, The Washington Post, The Chicago Tribune, Intel IO, Randy Zuckerberg's Dot Complicated, in 52 Weeks/52 Women feature.
Her wheelhouse:
Author—Three bestselling internationally published — Anti-Bride series — the first voice in the alterna-bridal pop cultural space — since 2002, the longest selling bridal title in the history of Chronicle Books.
Author —'Road Map for Revolutionaries: Resistance, Activism and Advocacy for All,' by Carolyn Gerin, Elisa Camahort Page and Jamia Wilson, Random House/Ten Speed Press, Fall 2018.
Sr. Editor/Brand Lead for the international romance travel magazine — Destinationido.com
App Developer—Recipient of the Open Screen Nokia Award to create the first green fashion app.
App Lead—Sea Shepherd Conservation Society. Worked with internal media team on launch strategy. Created advertising and copy for web/social media outlets.
Product Developer/Designer— Williams Sonoma, Pottery Barn
Copy Writer/Brand Strategist — Williams Sonoma, Pottery Barn
First to Market Event Creator— Operation Aisle Style/W Hotel, WedTech Summit, San Francisco and Maui.
Agency Creative— International Product Launch/campaigns/strategy: Amazon, Whole Foods — Lunette.com
Speaker—BlogHer, New West Summit, Fest Forums, Wedding Market, SXSW, Inforum/Commonwealth Club, Maui Cannabis Expo.
Committee Member — She serves on the Marketing and Advertising Committee of National Cannabis Industry Association — the national trade association advancing the interest of the legitimate and responsible cannabis industry. With the MAC committee, her goal is to develop best practices in cannabis industry marketing and education, opening dialogues with major media outlets that ban cannabis-related advertising. She additionally serves on the Social Injustice Subcommittee.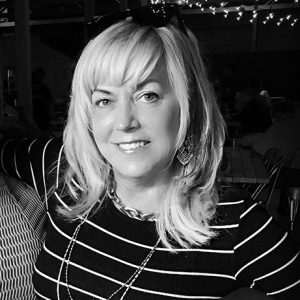 What I've Done + What I'm Doing
I've worn a lot of hats in my career but if there's one word that people consistently use to describe me is: catalyst. I grew up around Washington, D.C. — my family came over on a coffin boat from Ireland after the Potato Famine. Everyone went into some branch of military intelligence, and they ran things; predictably, I went to prep school. Although I have a deep respect for institutions, I also question everything: which is why I resonate with resistance movements, punk rock ethos, social justice, and not accepting things at face value. At the core, this questioning (okay, rebellion) informs everything: the way I approach design, writing books, leading teams and solving problems. There is always a way to improve things, and I truly believe that 'sunlight is the best antiseptic.' I apply brutal truth to all processes: to get to the guts of a creative project, to throw everything I've got at solving something, to communicate clearly and effectively and create useful tools. Clients, friends and co-authors appreciate the time savings and clarity that comes with transparency. It's how we move quickly and effectively. It's how we make positive change in the time we have on this earth.
I'm now focused on launching Road Map for Revolutionaries: Resistance, Activism and Advocacy for All — available for pre-order now, and leading Cannawise.co, a creative brand agency for the B2B/B2C cannabis industry. My heart and my skills go where they are needed, and being impactful in the service of others is at the center of what I do and why. I make bricks.
What I've Done
In 1998, after a successful stint as an assistant art director of a university, part time designer at the Washington Post, grad school, and teaching college-level graphic design, I decided to pull up stakes and heed the siren call of the Bay Area. The early 90's San Francisco Mission District was everything: the most creative, entrepreneurial thought was flourishing here. I opened my first agency: Subset Inc. in the Financial District in 1998. My clients ranged from environmental non-profits, to public works projects, to product development for Williams Sonoma. I fell in love with an industrial designer who, like myself, was also a creative who questioned everything. We decided to marry, but the 'wedding industrial complex' with its 'cookie cutter, assembly line group think' left us cold, and was devoid of individuality. There had to be a better way to do your big day, your way, so I wrote a book proposal to Chronicle Books and sure enough, the Anti-Bride Guide, Anti-Bride Planner, and Anti-Bride Etiquette Guide became the longest selling bridal title in the history of the company and the Planner is still in print. We put our 3-city wedding tour in as a use case, and I am happy that engaged couples around the world are DIY'ing their wedding, buying houses, paying down student loans and not getting sucked into an expensive 1-day debacle.
After a successful 10-year agency stint, I decided to head into apps, events and more magazine work. I was Sr. Editor at Destination I Do Magazine and traveled the world from Australia to Dubai. I lead an app development team for Sea Shepherd, and lead the Green Glam Go first green fashion app for Nokia. I co-created the successful WedTech Summit — the first to market conference where tech and wedding get engaged, and brought it to Maui with my now business partner Scott Johnson.
After I had done everything possible that could be done with wedding, I headed to weed and then things started getting interesting….
What I Do Now
At New West Summit 2016, I had an epiphany: the cannabis industry was poised to explode and I wanted to build an agency around this magical, healing plant. Plant medicine works: it shrinks tumors, helps with anxiety and improves health of everyone, from children with epilepsy to veterans with PTSD to become fully functional again. It was something I could put all my muscle behind, and I wasn't decorating cereal boxes. This work had a purpose, and yes, it checks all the boxes on my social justice/entrepreneurship bucket list. Plus, it was stigmatized and marginalized so there was something other than a paycheck for which to fight.
I launched Cannawise.co in 2017 and never looked back. Since then, partner Scott Johnson (of WedTech Summit Maui) has joined the team, and we have worked with farmers, California Cannabis Industry Association, and more. We sit on the Marketing and Advertising Committee for National Cannabis Industry Association and on the Social Injustice subcommittee. We plan to take on the powers that be: Facebook and Instagram to start, who shadow ban cannabis companies for being cannabis companies, with little explanation. And then, Donald Trump became the 45th president of the United States…
After 2 hours of staring blankly at the news coverage in disbelief, I realized it was time to write another book. I traded texts with Elisa Camahort Page, co-founder of BlogHer with the book epiphany, and then we completed the team with Jamia Wilson, career activist and executive director of Feminist Press. I wanted to model it off the Anti-Bride template: a field guide for the resistance — a direct, snappy guidebook on engaging in effective day-to-day activism that uses checklists, infographics, and case studies to showcase the tools for making change. My path was clear, and for the next year, we wrote the book Road Map for Revolutionaries: Resistance, Activism and Advocacy for All — available for pre-order now Penguin, Random House, Ten Speed Press available Sept. 18th, 2018 and in the same year launched Cannawise. It was a little busy.
Cannawise has all the bells and whistles of a traditional downtown agency, except we focus solely on the cannabis plant, and all the markets that surround it. We launch brands into the marketplace, help them understand their story and message, and how to tell it and show it in the marketplace. We help clients see and sound like what they aspire to be. And that's the best feeling in the world.
One thing I know, we are here to improve things and use the gifts we were given to stand up for others and ourselves. If we can make a living doing that? That's pure ohana.
Expertise: Brand expert, go to market strategy, storytelling, writing and messaging, first to market concepts and resulting creative, myth buster and movement maker.
Carolyn has been published or cited in top mainstream media outlets such as CNN, Entrepreneur, Technorati, Inc., Destination I Do Magazine, The Washington Post, The Chicago Tribune, Intel IO, Randy Zuckerberg's Dot Complicated, in 52 Weeks/52 Women feature.